If this email is not displayed correctly, please
click here
.
Greetings from the Chairperson of the ESR Board of Directors
Dear ESR Member,

I hope you have had a wonderful summer and are now ready for an exciting autumn.

After an engaging Board of Directors meeting in Vienna, we are very excited about the upcoming first edition of the 'Best of ECR' at the Brazilian Congress of Radiology (CBR19) in Fortaleza, Brazil in October. In the last few months, members of the ESR Executive Council represented the ESR and promoted the ECR 2020 at several congresses and will continue to do so at many upcoming radiological meetings across the globe in autumn. Furthermore, preparations for the ESR Annual Leadership Meeting are now in full swing and I look forward to welcoming many delegates of our institutional member societies to my hometown of Genoa in November to discuss topics of importance for our member societies and our profession!

Prof. Lorenzo Derchi
Chairperson of the ESR Board of Directors
---
ECR 2020 Registration
Registration for ECR 2020 is now open! To benefit from the highly reduced opening fee, register before October 17, 2019.
---
Editorial Fellowships in 2020 - Application open
Albert L. Baert Editorial Fellowship
The European Radiology Private Foundation is pleased to announce the Albert L. Baert Editorial Fellowship 2020. This editorial fellowship aims to provide training in editorial skills.
European Radiology Review Fellowships
The ESR is happy to announce the second edition of the European Radiology Review Fellowships. Up to ten candidates will be trained as reviewers for a period of approximately six months.
---
ESR Connect - It's SHOWTIME!!!
We are pleased to announce the launch of ESR Connect, our new video platform for education and entertainment, live, and on demand.
The brand new platform's highlight will be its live weekly shows on Wednesday night, premiering on October 2. Join us for Season 1 'The Cube Expanded' and challenge your knowledge with six tricky interventional radiology cases.

Besides these live shows, check out highlight videos, interviews and recorded lectures from ECR on ESR's brand new platform.
---
ESR reaches out to Clinical Chemistry and Laboratory Medicine
---
ESR further expands cooperation with radiographers
---
Congress calendar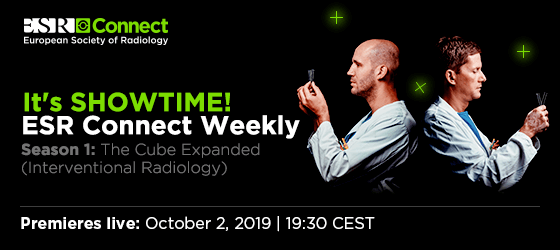 EIBALL Subcommittee Biomarkers Inventory
The European Imaging Biomarkers Alliance (EIBALL) Subcommittee is pleased to announce the establishment of its Biomarkers Inventory. The inventory, available on the ESR website, is designed as a guide to raise awareness of existing biomarkers and to promote their appropriate use by researchers and trialists.